Uw selectie
Google Nexus 5
Kies ander toestel
Google
Nexus 5
Internet
Handmatig instellen
Bij de Google Nexus 5 is het niet mogelijk instellingen voor mobiel internet per sms te ontvangen.
Wel is het mogelijk uw Google Nexus 5 handmatig in te stellen voor mobiel internet, kies Volgende voor stap-voor-stap instructies.
Go to the Start screen.
Choose the menu symbol.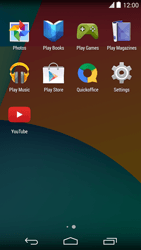 Scroll to the right.
Choose Settings.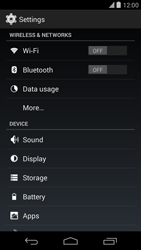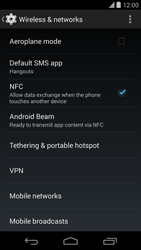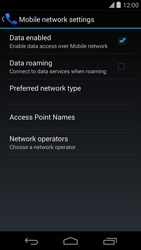 If Data enabled is unticked, tick Data enabled.
If Data enabled is ticked, go to the next step.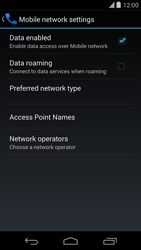 Choose Access Point Names.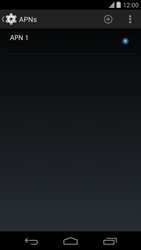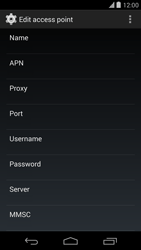 Under Name, voer Proximus Internet in
Under APN, voer internet.proximus.be in
Under Proxy, voer niets in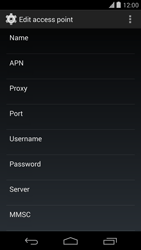 Under Port, voer niets in
Under Username, voer niets in
Under Password, voer niets in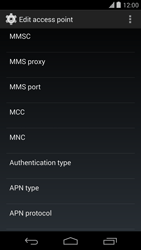 Scroll down.
Under MCC, voer 206 in
Under MNC, voer 01 in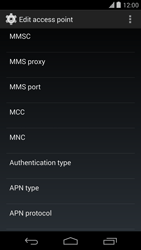 Under Authentication type, tick Geen.
Choose APN type.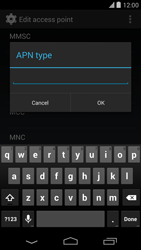 If this screen appears, enter default (note: in lower case) and choose OK.
If this screen does not appear, tick Internet and choose OK.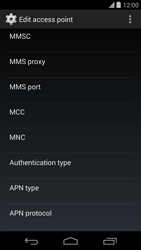 Choose the options symbol.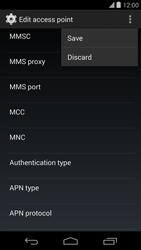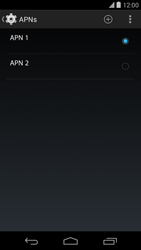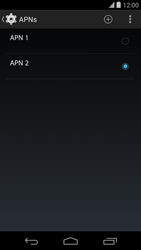 The Google Nexus 5 has been configured for mobile internet.
Return to the Start screen.
Startscherm.
Zet de Google Nexus 5 uit en start deze opnieuw op om de instellingen te activeren.
Begin nu met surfen.